Your installations at a glance
Professional Equipment Management
Your installations at a glance – at any time or place with our Demag Service Platform
As your equipment becomes more complex and grows in size, you tend to face more challenges in managing it, for example keeping track of maintenance intervals for different equipment and performing compulsory safety checks and inspections, as required by law. The consequences of failing to do so could have a large impact.
Without professional equipment management, it would be difficult to maintain an overview of your equipment, co-ordinate schedules, ensure an efficient flow of information and analyze safety-related events.
One solution for all your equipment
Our Demag Service Platform combines all information on equipment, service work and events. It provides you with a clear overview of not only cranes, but also other technical equipment regardless of their manufacturers and locations. From safety officers to factory management – everybody involved in your service activities has the same information at all times.
Besides the basic functions, various optional modules are available that can be tailored to meet your exact needs.
Matching your needs
Ensure safe operation
Our Demag Service Platform enables you to plan service events and store inspection and job reports which can be retrieved quickly at any time. For routine jobs, a new schedule would be automatically recommended after the tasks have been completed. All information can be made available through different levels of access permission to ensure an optimum flow of information throughout the entire company.
Manage documentation
With our Demag Service Platform, you can store all your product-related documents according to how they are classified and can retrieve them at the press of a button. In this way, you can still have a good overview even after many years.
Manufacturers' documentation available at all times 
As a web-based application, our Demag Service Platform gives you fast, password-protected access to your stored documentation – for even better efficiency.
Functions and benefits
At a glance
Complete overview of all equipment and events
Effective deadline tracking
Verifiable history of inspection work
Integrated archiving
Structured filing system with direct access to all documents relevant to your service activities
Simple electronic document management
Easy to use
Global access to all information
Web-based application, therefore no need for installation or updates
Current version always available (including all extensions)
Self-explanatory processes
Search for equipment
Clear overview of all equipment
Rapid access to all relevant data
Manage your own users
Add more users
User-defined authorization with filter function
No workstation licences required
Track changes
Personalised login
Assign all activities to specific users
Safe and reliable data transfer
Encrypted data transfer between web server and web browser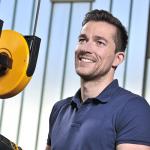 Unit 1 Charter Point, Coalfield Way, Ashby Business Park,
Ashby De La Zouch, LE65 1NF,
United Kingdom